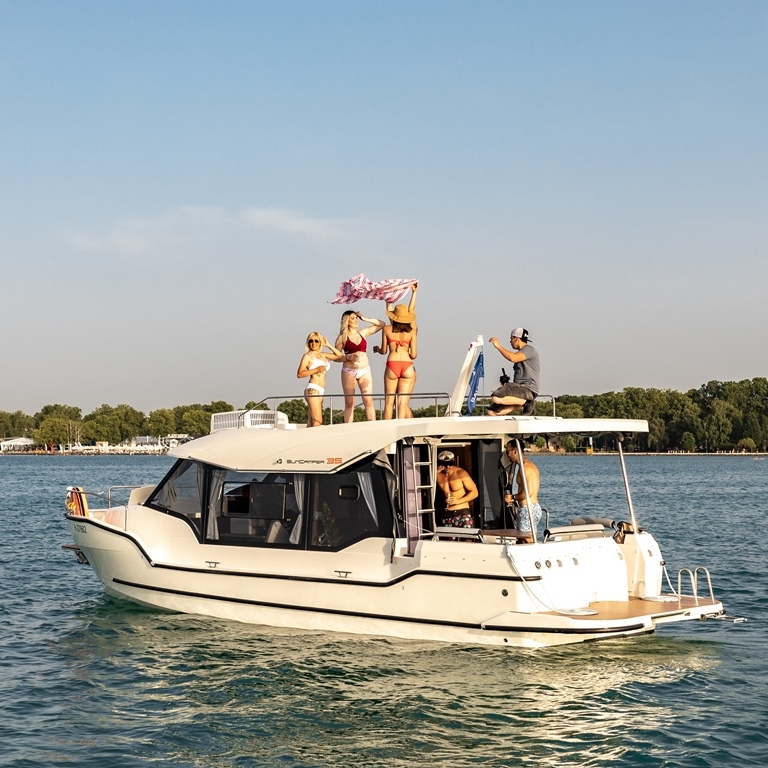 Comfortable solutions
The deck and cockpit of the luxury yacht are designed with maximum and special functionalities, and the spacious sun terrace can accommodate larger groups too.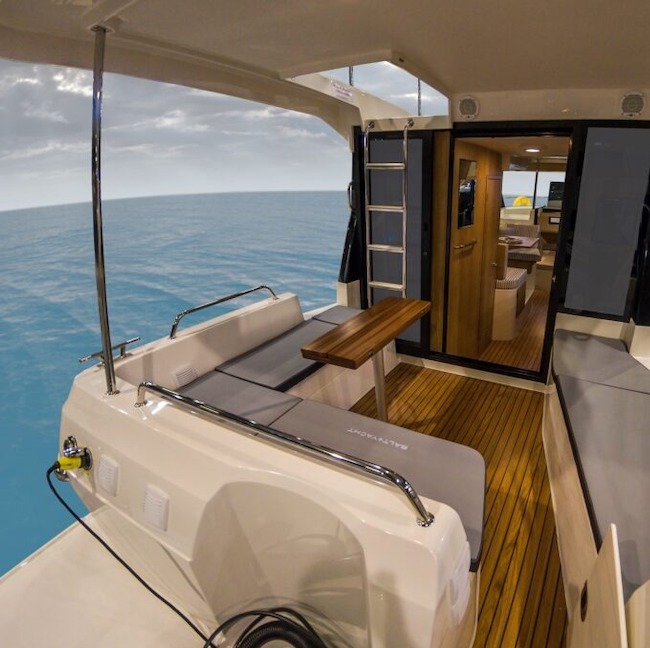 Huge sun deck
The Suncamper's 35 sun terrace is ensuring real luxury and relax for passengers.
Spacious interior
The nearly two-meter-high interior makes the Suncamper 35 a real floating holiday home.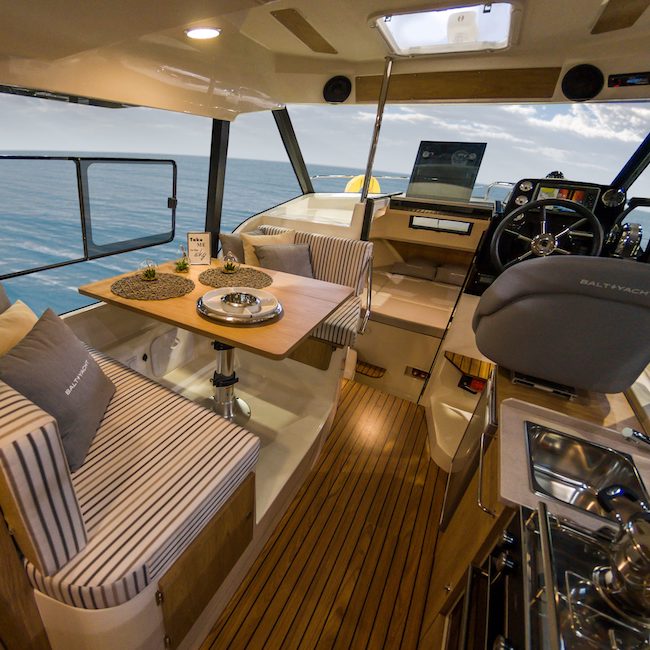 Easy to use
An easy-to-maneuver, stable boat, designed by designers with a number of features that makes mooring easier.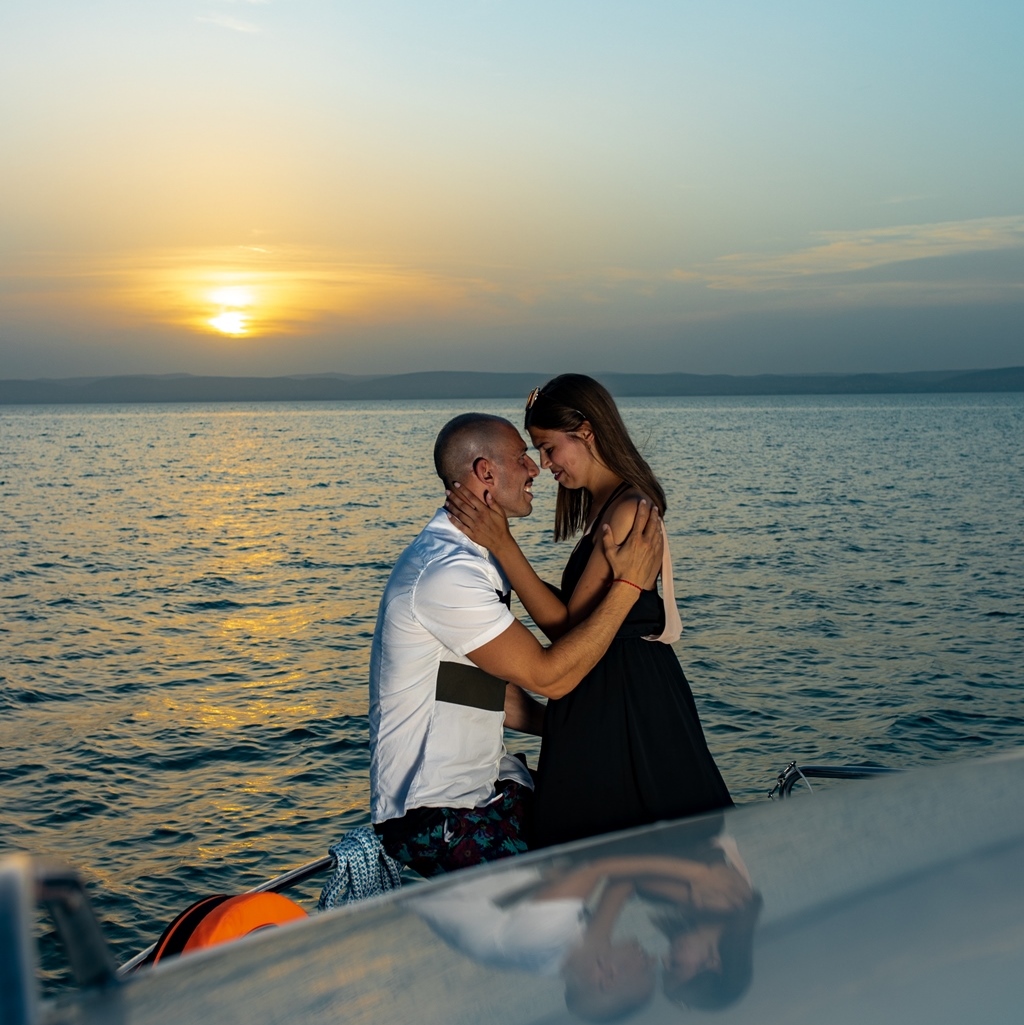 Our company has been providing classic hotel services for more than 20 years. Our focus is on continuous development, so we always try to come up with something new to increase guest satisfaction.We thought that we could make the best use of our territorial features if we already have our wonderful Lake Balaton here. That's why we dreamed of a big one and started a more exclusive, more extreme accommodation service. This is nothing more than a 5-seater electric luxury boat, which also functions as accommodation in the gently rocking waters of Lake Balaton.
Would you like to splash around in the middle of Lake Balaton? Would you go on a boat trip to north shore for a lunch? Would you admire the sunset directly from the Lake Balaton?
Then you are looking for us!
What we can offer:
A real adventure boat trip with additional maximum 8 persons (besides you) and with a minimum of 3 hours on the lake
Skilled, professional, cool boat captain
Personalized, exclusive drink package so that you do not dry out in the heat
Exclusive picnic package in case you get hungry (for extra charge)
If you think 3 hours is not enough for you, contact us for a special offer.
You have not decided where to stay overnight? No problem! Holiday Boat Balaton is a perfect option if you are looking for a boat accommodation!
Can you imagine a more attractive place to admire the sunset than the middle of Lake Balaton?
We do not.
Thanks to our Suncamper 35 boat, this experience is already available for you, all you have to do is to book in time so you don't miss out..
Suncamper 35
The latest model of luxury holiday boats has arrived
Perfect choice for boat trips with family or friends, up to 10 guests can comfortably fit on the yacht.
The new model was designed based on the experience of its predecessor, the hugely popular SunCamper 30. With its modern, special design, premium material use, quality work and economical operation, the SunCamper 35 is the market leader among electric boat commoditization.
Thanks to its bright and spacious interior design, it is a very comfortable holiday accommodation, in which the cabins have an extraordinary ceiling height. The deck of the ship is also comfortable, its cockpit is extremely functional and the sun bridge sun terrace provides luxurious conditions to relax.
Leisure becomes a real experience with the new SunCamper 35, which is not only modern and spacious, but also extremely economical. It is also a perfect choice for Lake Balaton and the sea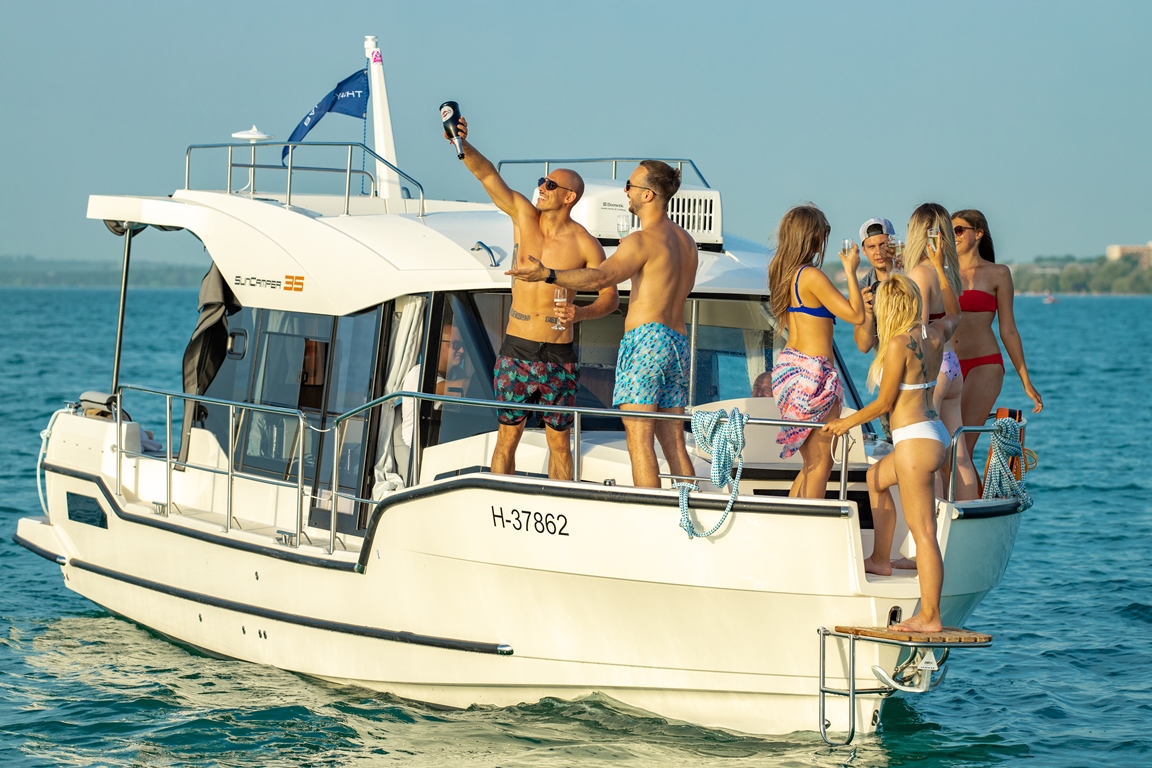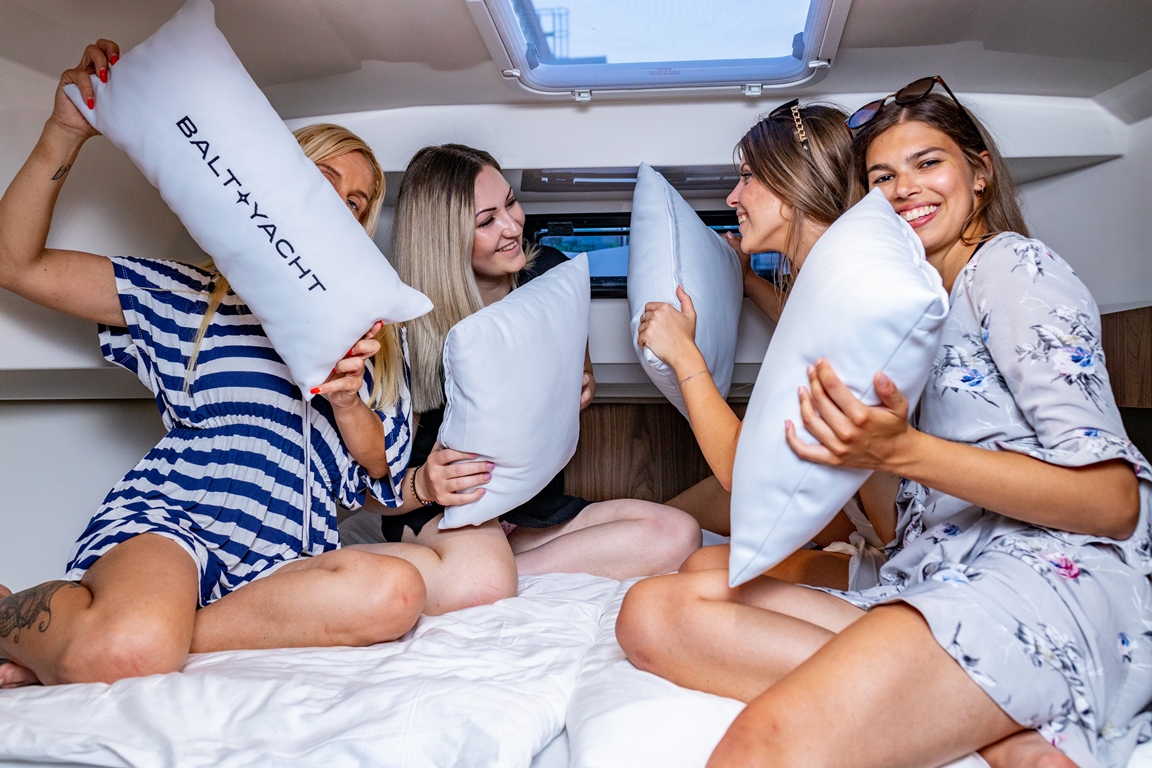 Unique design, premium work
Comfortable and functional on-board solutions
The sun deck and cockpit of the luxury yacht are designed extremely functional, and larger groups can be comfortably accommodated around your desk and on the spacious sun terrace.
Ideal for 10 people, a bed for 7 people
Perfect choice for friendly boat trips or social programs.
Huge sun terrace
The Suncamper's 35 sun terraces create real luxury for passengers looking for relax.
​
Luxury holiday home on Lake Balaton and the sea
Spacious interior
The nearly two-meter-high interior makes the Suncamper 35 a real floating holiday home.
Easy to use boat
Easy-to-maneuver, stable boat with a number of mooring features designed by the designers
Economical
Thanks to a hull designed for electric and non-gliding motor propulsion, it is particularly economical to consume. In the case of electric propulsion, in addition to the unique 2kW consumption at cruising speed, the range with the standard battery pack is 75km. With a petrol 50 hp outboard engine, it consumes only 2.5 - 3 l / h at a speed of 10 km / h.
​
Specifications
The Suncamper 35 electric boat is able to travel fast even at low engine power thanks to its special hull designed to minimize drag. Its maximum speed is above 25 km / h.
​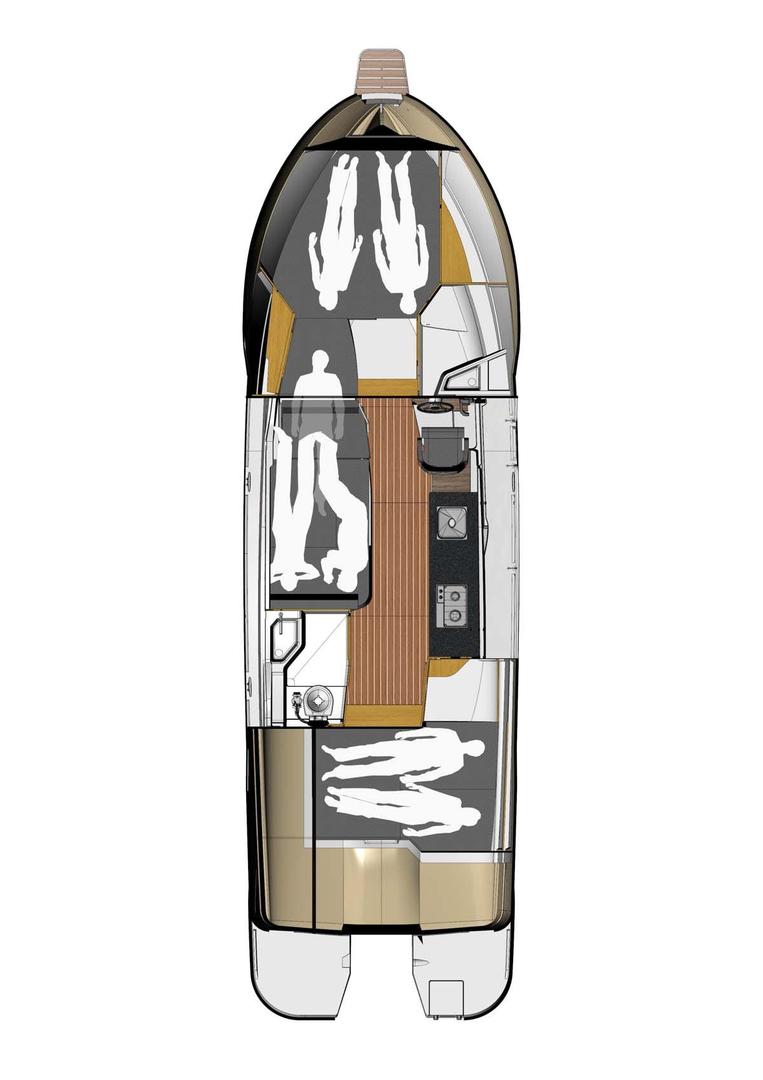 | | |
| --- | --- |
| Length (LOA - including bath platform) | 10.60m |
| Hull length | 9.05m |
| Width | 3m |
| Dive | 0.6 m |
| Weight (with equipment and engine) | ~ 4200 kg |
| Height above water level | 2.9 / 3.5 m |
| Maximum height | 3.50 m |
| Max. Number of people that can be transported: | 10 |
| Number of beds in the cabin: | 7 |
| CE category | C-10 / B-8 |
| Cold engine | 25-115LE |
| S-Drive motor | 30-60HP |
| PERIOD | PRICE |
| --- | --- |
| 3 Hour | 85.000 FT |
| 4 Hour | 99.000FT |
| 8 Hour | 139.000 FT |
| 24 Hour | 210.000 FT |
| SKIPPER | 4500FT/Hour |
| PERIOD | PRICE |
| --- | --- |
| 2 Day | 390.000 FT (195.000FT/day) |
| 3 Day | 540.000 FT ( 180.000 FT/day) |
| 4 Day | 680.000 FT (170.000 FT/day) |
| 5 Day | 800.000 FT (160.000 FT/day) |
| 6 Day | 900.000 FT (150.000 FT/day) |
| 7 Day | 1.015.000 FT (145.000 FT/day) |
Obligatory costs
One-time costs per rental are automatically charged based on the days rented.
Tranzitlog for multi-day rentals 25 000 Ft
Security deposit
In case of boat rental, a security deposit is mandatory before taking over the boat. You can pay the deposit in cash on the spot. The amount of the deposit will be refunded at the end of the charter if no damage has occurred to the boat.
Amount of deposit 300 000 Ft
Book now!
Holiday Boat Balaton
The boat will be handed over at the Siófok sailing port.
Address: 8600 Siófok, Vitorlás street 10